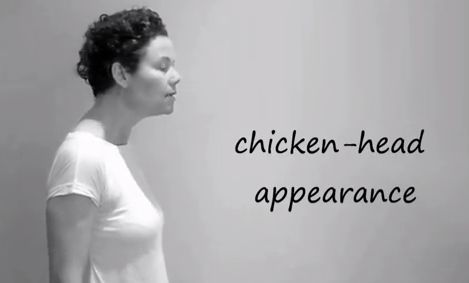 Plan to Improve your Posture.
This post is based on the "Four Points of Posture" session that was presented at Fitness Day 2013. It includes an excellent video on the correction of Forward Head Leaning. Learn and Practice the Four Points of Posture;
Learn and Practice Six Power Exercises:  two for upper body, two for lower body, two core exercises.
WHAT IS POSTURE?
The position or attitude of the body or bodily parts that require minimum muscular energy to maintain efficient function of the joints with musculoskeletal balance.
WHAT IS GOOD POSTURE?
Posture and body alignment which prevents injury and meets the demands made upon it throughout a lifetime.
FOUR POINTS OF POSTURE
• Lengthen your spine • Lift your chest • Pinch your shoulders • Tighten your abdominals
SCHEDULE – PRACTICING THE FOUR POINTS
(Lengthen your spine, Lift your chest, Pinch your shoulders, Tighten your abs) Week One: 3x a day – breakfast, lunch and dinner Week Two:  6x a day – in between meals + above Week Three: every hour you are awake Week Four: every 30 minutes you are awake
TWO UPPER BODY EXERCISES
• Row/Upward Row (Option without weights: Shoulder Blade Squeeze) • Chest Press (Option without weights: Moving One Arm at a Time Forward / Punching)
TWO LOWER BODY EXERCISES
• Squat (Option: Sit to Stand) • Lunges (Option: Step ups)
TWO CORE EXERCISES
• Plank (Options: Bridging / Wall Plank ) • Bird Dog (Options: Prone Superman Standing Superman) There are many posture videos online. Here is one that I've found helpful. [youtube 4uzd_nFzj0Y] There is a large collection of posture videos at
youtube.com/user/posturevideos/videos