text and photos by Maggie Heineman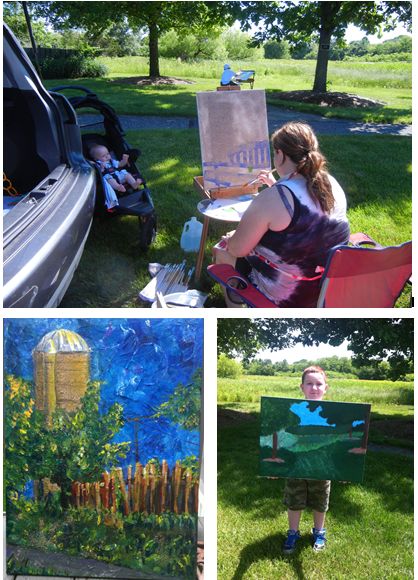 On June 7, thirteen adults and four young people participated in the Medford Art Center's Annual Plein Air Contest,  which was held at Medford Leas this year. I spent that day taking photographs and in following days made phone calls to the artists. It was a delightful experience for me and the artists were able to experience Medford Leas landscapes and nature via paintbrush.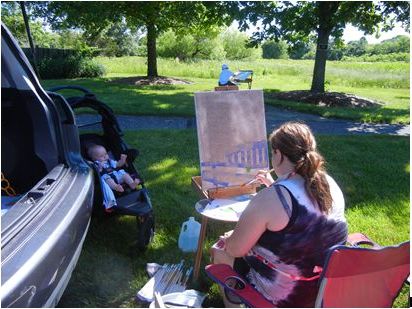 First place went to Molly Gummerson's painting of the Silo. Molly's 9-year-old son RJ was also a contestant. The photos below of the finished paintings were emailed to me by Molly, who's is a professional photographer and artist.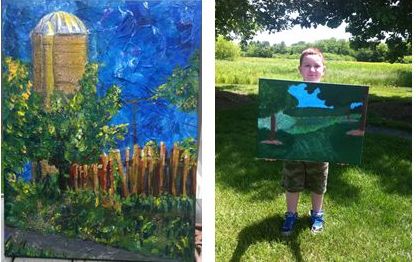 Bob Lipartito's painting of the Red Trail looking toward Estaugh Way received second place. Bob, a music librarian by profession, is now spending as much time as possible on his avocation. His work has appeared in juried shows.

The painting of the farm by Susan Barnes took third place. Susan worked as a nurse at Medford Leas for a few years in the early 70s. In the mid 90s she began painting full time. She has sold many paintings whose prices, depending on the size, range from about $400 to $4000.

Carol Hess Plimpton received honorable mention for her painting which shows the beginning of the Railroad Trail as approached from Nature Center. She's had a lifelong interest in painting and a few years ago began doing it seriously. A few of her paintings have been sold through galleries and she's had one-person shows at libraries and similar venues.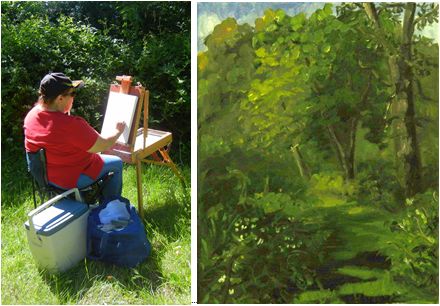 Linda Burns and her friend Schuyler McClain set up shop on Trail 16. Linda was facing the Silo and her painting was awarded Honorable Mention. Linda retired as an art teacher three years ago and now has time to pursue her own art, which has been displayed in local art shows. Schuyler loved to draw and paint since childhood and became an elementary school art teacher. Like Linda she is now retired. She is new to landscape painting. Two junior high school students, Faith and Gabrielle, painted the pond in Court 7. Faith was the winner in the "17 and Under" category. Gabrielle is close to the camera in the photo below and Faith's painting is on the left with red water and royal blue rocks.


78-Year-old Maggie found 9-year-old Maggie identifying frogs at the pond near the corner of the main parking lot. However, Old Maggie couldn't see the frogs, which had been named Bob, Steve, Joe, Tim, and Jeff by Young Maggie. The frog hunt then needed to be interrupted for the photo shoot. Old Maggie also shot the pond Young Maggie was painting but was still unable to see frogs.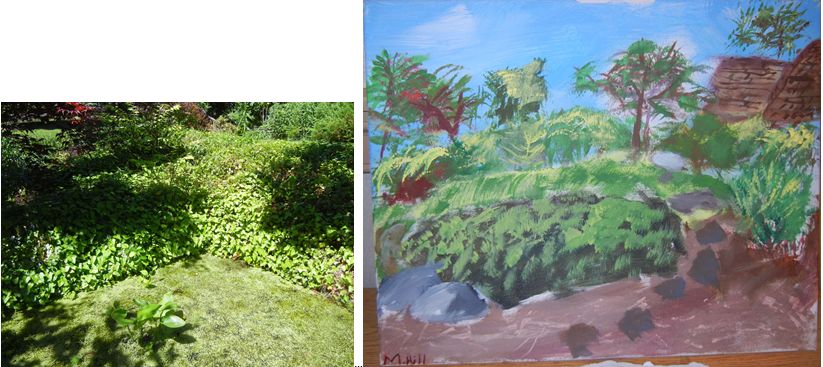 Dorothy Cebula and Janet DeVry painted the "Three Graces" sculpture, which they see every day from their homes in Rushmore. When I sent Dorothy a link to the
photoessay about the sculpture
, she replied that knowing that the sculpture could be viewed from her house played a role in her choice of home. Janet says that painting is her "main hobby." In addition to taking courses at Perkins, she paints once a week at the
Medford Leas Art Studio
. In the photo facing the camera, Dorothy is on the left. Her painting is also on the left in the next pair of photos.


Patrick Monaghan and Alison Paige created paintings that centered on buildings. Whereas Patrick began painting 21 years ago and has sold paintings through galleries, Alison is a recent high school graduate who will be a student at Savannah College of Art and Design beginning in September. Alison was in Bridlington and Patrick was behind Court 5 looking toward the Community Building.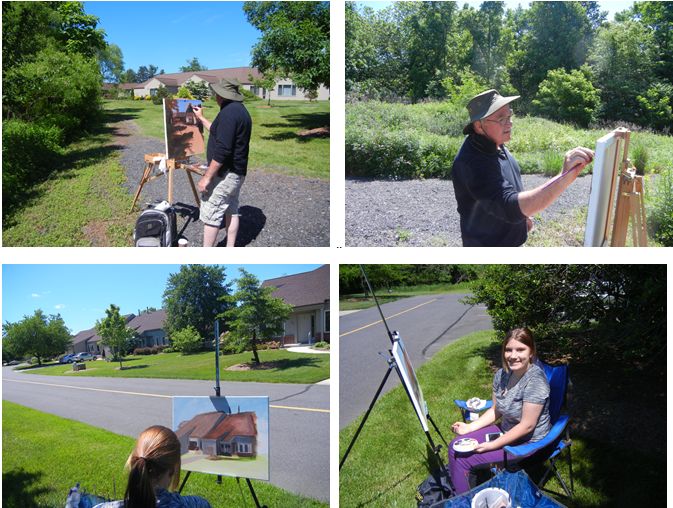 Patrick's painting is on the left, Alison's on the right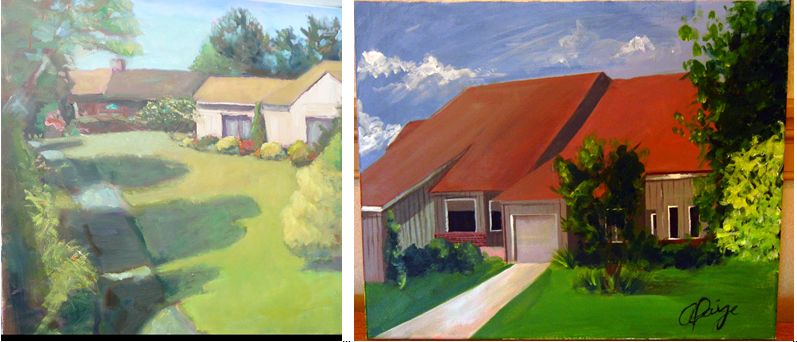 Bonnie Jarret painted the footbridge over the railroad bridge, which is at the intersection of Medford Leas and Estaugh Ways. Sharon Erickson painted the meadow from a shady spot about halfway between the footbridge and the silo.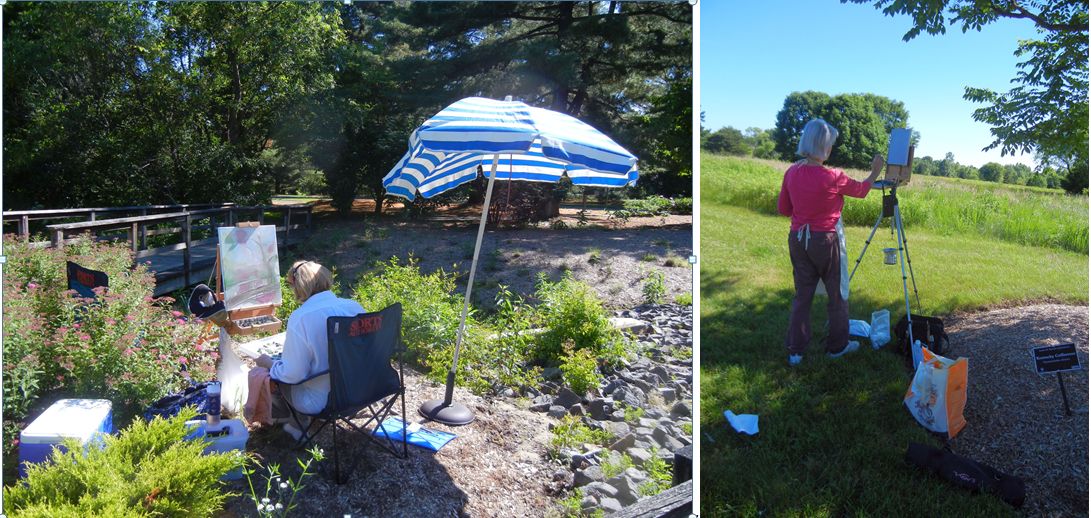 Bonnie retired in May, and has recently taken a course at the Medford Art Center. This is her first experience with plein air, which she says has taught her some things for next time. Sharon took up the hobby of plein air two years ago; she has taken classes at the PA Academy for Fine Arts and the Perkins Center.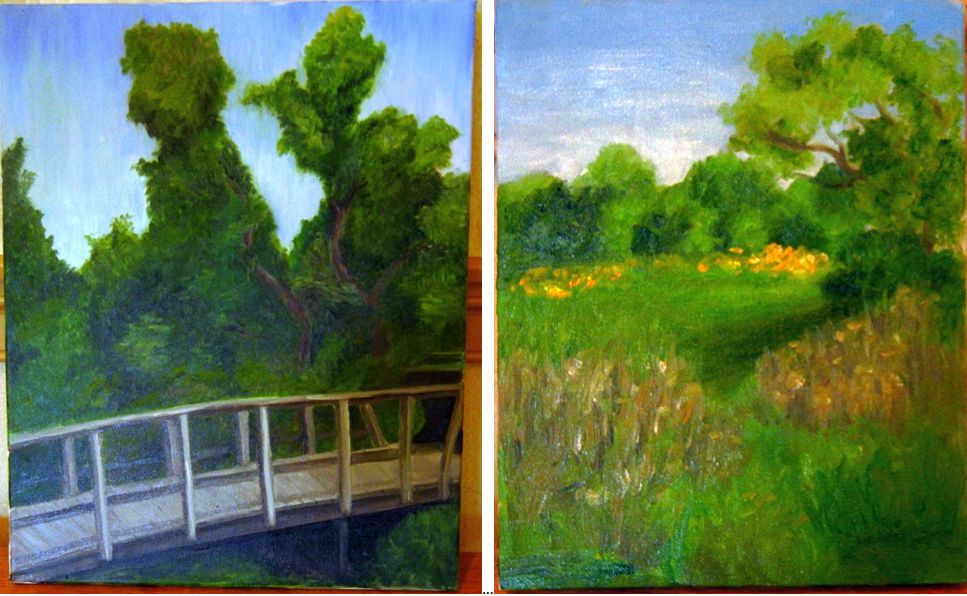 In closing there is the painting of Meditation Garden by Anna Diaczynsky. The June issue of the Medford Leas literary magazine,
Leas Lit,
 included a 
photo of the garden along with a poem, "Words for a Sacred Place.
" As a child, Anna had wanted to become an artist; her parents did not encourage it and she became a nurse. She worked here at Medford Leas from 2003 until 2010. After leaving Medford Leas she began to pursue her passion for art and this year she took an art course offered by Southampton Township. The plein air contest brought her back to Medford Leas to paint this garden, a sacred place.